From February 7th to February 22nd, 2019, the students of the first phase of Zhejiang University's Gold Smelting Project" and the teacher of the class, Mr. Yan, conducted an overseas training program in California. The goal of the trip was to visit the famous California schools, immerse in American classes, experience local culture and expand overseas horizons.
"Our gradual adaptation to California life also meant it was about time to depart."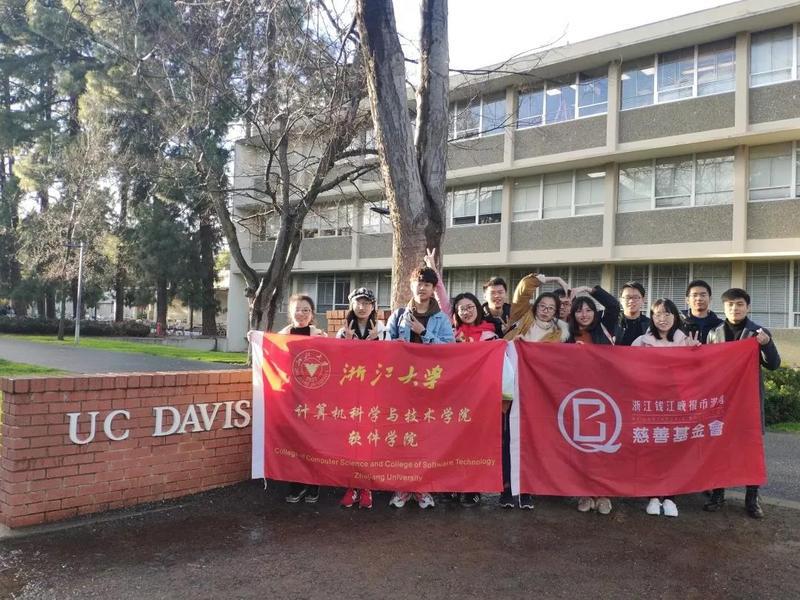 PART 1 into the Prestigious Schools
During the two weeks in California, the students visited three of California's famous universities and Silicon Valley.
UC Davis
UC Davis was the main venue for the students' trips this time. As a top university in the United States and the world, UC Davis ranks 8th in the countryamong public universities and 38th overall. The school is known for its management, economics, law, health sciences, social sciences, humanities and arts programs, and is the world's research and education center for veterinary, environmental science, agriculture and sustainable development.
UC Davis is located in Davis, a half hour drive from Sacramento. Davis is a veritable "university city". The town is built by the university and has a small resident population. Nearly three-quarters of the population are students.
If I had to pick one word to describe Davis, it would be harmony. The environment was harmonious,there were a lot of little squirrels and lawn trees were everywhere for people to rest; the people were harmonious, students, teachers, visitors and staff members from all over the world were everywhere. There were no towering buildings and no bustling streets. In surrounding areas, especially the town of Woodland where many team members lived at, there were large areas of farmland, orchards and pastures. At night, there was almost no one on the streets of Davis, and the sparse and dim street lights stood quietly on the side of the road. At this point, you could see the stars in the sky. It was wonderful.
Downtown
UCD has driven the whole surrounding ecology, and downtown is next to the university. It not only provides students and visitors with a convenient place to eat and drink, but also effectively promotes the development of the local economy.
MU
The first UCD campus building that students got familiar with was MU (Memorial Union), which is a student activity center. It is always filled with students engaging in exchanges, discussions and chats. The atmosphere was relaxed and enjoyable. This kind of atmosphere allowed us to quickly blend in, so that it later became the gathering center for everyone.
- Where should we meet up?
- Let's do MU.
Library
As a landmark of UCD, the six eggheads on the campus left a deep impression on everyone. The egghead that dived its head into a book at the entrance of the library was the best. It is said that before an exam, you can just touch this book-reading egghead and you won't fail the subject. This is the same as don't step on the copper badge in Berkley so you get 4.0 GPA. It seems that every university has a similar pre-test ritual whether it is domestic or foreign.
Unlike the libraries of Berkeley and Zhejiang University, UCD's library is not so quiet. In it, you can hear the conversations of the students, but those are notvociferous arguments, but soft academic whispers; here, thin rubber shards are often found on the study tables, left behind by fine pencil and erasers. In the United States where electronic products are highly advanced, there are still many students in UCD who insist on such a methodical and elegant way of learning. The relaxed and playful library with strong academic atmosphere was probably the biggest charm of UCD.
UC Berkeley
Located in Berkeley, San Francisco Bay Area, UC Berkeley is a world-renowned public research university with many of its departments ranked top ten in the world. Established in 1868, Berkeley is the founding university of the University of California system.
It was raining when we visited Berkeley. When we went indoors, we found out that many students were studying. Just walk into a coffee shop and you could see a lot of people sharing an animated conversation, but their sound doesn't affect others.
UCB's architectural style is very quaint. It has many buildings from last century, creating an academic atmosphere. Berkeley's library is also very famous, with heavy wood tables, sculpted bookshelves, a large rug with dark patterns, elaborately decorated domes and paintings, and various chrome-colored lights. It is ordinary but still fits smoothly into the modern era.
The Berkeley computer science department ranks among the top in the world. Our students were fortunate enough to visit the computer department building and its digital media and other laboratories. They also listened to some of the group meetings. Berkeley's group atmosphere is very active. Each classmate will argue and debate over the reporter's presentation until the problem is solved.
Stanford University
Stanford University is a private research university located in Stanford, California. It is recognized as one of the most prestigious institutions of higher learning in the world for its academic reputation and entrepreneurial atmosphere. Stanford has trained many famous people and its alumni have established many well-known companies, such as Google, Yahoo, Hewlett-Packard, Nike, and Sun Microsystems. These companies have the same amount of funds as the world's tenth largest economy.
Strolling through Stanford University, wefeltits profound vitality and inclusiveness. This beautiful campus with rich history has not only produced numerous academic and business elites, but also hundreds of Olympic medal winners, highlighting the completeness and dominanceof this top university.
Silicon Valley
The southern part of San Francisco Bayis a paradise for academia and high-tech industries. It is home to the world famous high-tech industrial zone Silicon Valley and one of the world's top university Stanford University.
The Silicon Valley Plug & Play displayed to the students a strong alliance between industry and academia that jointly provide a good soil for the innovation and entrepreneurship of SMEs. Let every good idea burst out. As a leader in the IT industry, Google has made everyone feel its powerful presence while inspiringus to dedicate ourselves to the development of China's IT industry.
PART 2 Course Study
"If you could only stay in a foreign country for two weeks, what would you want to learn?"
UC Davis has customized a set of academic and cultural projects for the students. Here, the students communicated face-to-face with the American native (starting with every day terms and idioms). They learned American academic, professional email writing, and also the US Constitution. In terms of content, the courses that students participated in were similar to the beginnernative American English class. The class was not a dull professor lecturing for hours and hours, but full of interaction. Compared with traditional learning, this kind of learning is more open; there is no standard answer and everyone involved enjoyed it.
Photo: Homestay lecture hall and American post-secondary education
American Idioms
Ms. Ellen Lange, who teaches American idioms, is a silver-haired and kind grandmother. From pronunciation, rhythm, to common abbreviations and academic idioms, everyone learned how to speak English like a native speaker.
Professional Email Writing
Professional email is an essential mean of communication with Americans. Ms. Audrey Foulk demonstrated to the students how to write emails properly. Combined with specific professional email samples, everyone learned:
1. The time, place, person, and what to do should be succinctly stated in the email;
2. Avoid using simplified symbols to avoid ambiguity;
3. Avoid using all capitalized words.
US Constitution
Mr. Judge Timothy Fall taught the students about the US Constitution. The United States is a country that attaches great importance to freedom and democracy. American citizens protect citizens' freedom of speech, religious beliefs, personal security, and privacy through constitutional protection. Mr. Fall takes the students present as an example, giving students different assumptions, bringing us into the situation and feeling the sense of security that the US Constitution brings to the people.
Poster Presentation
The last item of the exchange program was the presentation on American university survey. Each group needed to complete a poster through interview survey. Completing surveys and posters in a tight schedule was a big challenge for everyone. In the end, thanks to everyone's cooperation and efforts, all the teams did a great job. In the final presentation, the students saw the sparks of idea from various groups through wonderful short plays and exquisite speeches and felt the dedication of everyone working hard towards a mutual goal. This was not only an exchange to experience foreign culture and top schools, but also a wonderful journey to meet good friends.
Poster Exhibition
PART 3 Homestay
Home life was a key part of the trip to California and a unique activity that allowed us to experience American culture in depth. As James (who was responsible for arranging our housing) said, homestay doesn't offer just a hotel, a restaurant and a taxi, but an opportunity to communicate with others, establish close bonds and experience cultural differences.
Different from the shyness and novelty when we first met our new home, after two weeks, everyone was reluctant to leave.
<The following excerpts are thoughts from the students>
"I will remember Frankie and Katie playing with each other, accompanied by the sound of the living room TV. I will remember that after the night falls, I return to my home night, I could briefly see the stars and constellations in the sky. I will remember the big hug the hostess gave us when we left, and the Japanese girl's farewell after our last class.
Roxy and Mike's home were filled with gifts from the students they met. They say their children are all over the world. There is a wall full of thank-you letters from the students–you could tell from the words how reluctant they were to leave. I think, in the future, our letter will also hang on it."
——Wang Qian
"This is my American family, my second family.
This was the last sentence in my letter to Fannie mom."
—— Li Da
PART 4 Student Interviews
"This study tour was filled with a lot of first times: the first time I saw the sunrise and sunset in the Pacific Ocean; the first time I experienced two weeks of rural life using a non-native language; the first time I tasted real sandwich, burger and pizza. A lot of first timesweaved my trip to California. It had beautiful scenery and even more beautiful people. The unity of the fans on the NBA court, the etiquette at pedestrian crossings, and the thirst of the students on campus deeply moved me. I love the passionate and energetic California. We are half a world away, but we all have the same dream."
——XieYuning
"The trip made me realize our horizon needs to be expanded. It is always limited by Zhejiang University and China so our layout will inevitably be limited as well. If you want to be the leader of the future, you must cooperate and compete with the outstanding people of each country. Being content with the status quo will only slow down your progress.
After visiting Berkeley and Stanford, I was impressed by the students there. I found that excellent people are always lively, not bookworms with textbooks. Student life is vivid in these campuses, but that does not compromise the academic atmosphere. I think this can really train the abilities required to become excellent individuals, and I am very eager to become a student there."
——Ji Juntao
"The biggest takeaway of this study tour is a broadened horizon. When I was an undergraduate, my eyes only focused on what I learned, and I didn't understand the outside world. In this trip, I felt that the biggest gap between China and foreign countries lies in the cultural soft power of the East and West. Americans really enjoy their profession and their lives; while Chinese people have their own advantages, we need a little more happiness. We should see the gap and increase happiness and acceleration through hard work."
——Pan Zhe
Two weeks flew by. During the two weeks, through academic activities, social surveys, cultural exchanges and visits, the students learned about the social, cultural and educational aspects of the United States. Everyone felt the difference between China and the US. In the meantime, the trip enhanced communication and collaboration, expanded international horizons, and formed a profound friendship among the team members.