IEEE VIS 2019, the top-level academic conference in the field of visualization, recently announced its paper review results. Six papers from the State Key Lab of CAD&CG were accepted.
IEEE VIS is the most authoritative international academic conference in the field of visualization, sponsored by the Visualization and Graphics Technical Community (IEEE VGTC) under the Institute of Electrical and Electronics Engineers (IEEE). It is also a Class A conference assessed by the China Computer Federation. IEEE VIS consists of three academic conferences: IEEE Conference on Visual Analytics Science & Technology (VAST), Information Visualization (InfoVis), and Scientific Visualization (SciVis). The three sub-conferences represent the latest developments and cutting-edge technologies in the respective fields. These six accepted papers were recommended to the IEEE TVCG, the top journal in the field of visualization.
The IEEE VIS Conference is highly regarded and influential in the industry. It attracts a large number of researchers from academia, industry and government agencies around the world to exchange the latest developments in the field of visualization to share cutting-edge technologies, tools and research experience.
A Natural-language-based VisualQuery Approach of Uncertain Human Trajectories
Zhaosong Huang1, Ye Zhao2, Wei Chen1, Shengjie Gao1, Kejie Yu1, Weixia Xu1, Mingjie Tang3, Minfeng Zhu1, Mingliang Xu4
1 State Key Lab of CAD&CG, Zhejiang University
2 Kent State University, Davis
3 Hortonworks, 4 Zhengzhou University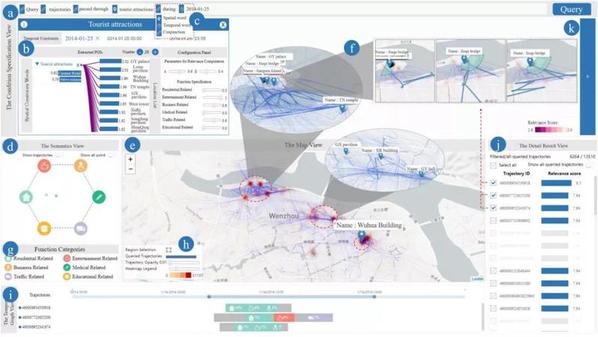 RSATree: Distribution-AwareData Representation of Large-Scale Tabular Datasets for Flexible Visual Query

Honghui Mei1,Yating Wei1, Yuanzhe Hu1, Shuyue Zhou1, Bingru Lin1, Ying Zhao2, Jiazhi Xia2, Wei Chen1
1 State Key Lab of CAD&CG, Zhejiang University
2 School of Computer Science and Engineering, Central South University
Evaluating Perceptual Bias During Geometric Scaling of Scatterplots
Yating Wei1, Honghui Mei1, Ying Zhao2, Shuyue Zhou1,
Bingru Lin1, Haojing Jiang2, Wei Chen1
1 State Key Lab of CAD&CG, Zhejiang University
2 School of Computer Science and Engineering, Central South University
Visual Analytics for Electromagnetic Situation Awareness in Radio Monitoring and Management
Ying Zhao1, Xiaobo Luo1, Xiaoru Lin1, Hairong Wang1, Xiaoyan Kui1, Fangfang Zhou1, Jinsong Wang2, Yi Chen3 , Wei Chen4
1 School of Computer Science and Engineering, Central South University
2 Southwest Electric & Telecom Engineering Institute
3 Beijing Key Laboratory of Big Data Technology for Food Safety,Beijing Technology and Business University
4 State Key Lab of CAD&CG, Zhejiang University
Tac-Simur: Tactic-based SimulativeVisual Analytics of Table Tennis
Jiachen Wang1, Kejian Zhao1, Dazhen Deng1, Anqi Cao1, Xiao Xie1, Zheng Zhou2, Hui Zhang2,Yingcai Wu1
1 State Key Lab of CAD&CG, Zhejiang University
2 Department of Sports Science, College of Education, Zhejiang University
AirVis:Visual Analytics of Air Pollution Propagation
Zikun Deng1, Di Weng1, Jiahui Chen1,Ren Liu1,
Zhibin Wang2, Jie Bao3, Yu Zheng3,Yingcai Wu1
1 State Key Lab of CAD&CG, Zhejiang University
2 Research Center for Air Pollution and Health, Zhejiang University
3 JD Intelligent City Research, Beijing, China
Source: The State Key Lab of CAD & CG, Zhejiang University